The Communication Development Strategy
The Communication Development Strategy is a 4-step process for effective business communication. You should use this process every time you speak or write in business. Whether it's an email, phone call, report, or formal presentation, this process will ensure that your message is persuasive and impactful.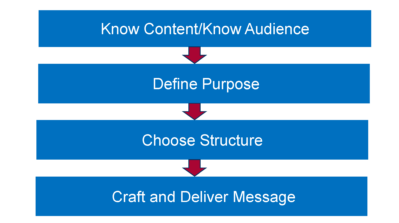 1. Know your Content // Know your Audience
Knowing your content is obviously important. But just as critical is knowing your audience. Every audience will have different needs, objectives, levels of expertise, biases, etc. And if you don't properly analyze that audience and account for their unique attributes, then the effectiveness of your message will be impacted.
2. Define your Purpose
Once you know your audience you must define your purpose. What outcome do you want to achieve? In other words, what do you want your audience to do? Your purpose will be your guide as you develop your message, so it's important to define it up front.
3. Choose your Structure
Every business communication will follow the same basic structure:
Introduction (10% of message). Defines the Purpose, builds your Ethos, shares the WIIFM, and Previews your key points.
Body (80% of message). The substance of your message. Includes your key points, which are organized with topic sentences and transitions.
Conclusion (10% of message). Includes a Summary Statement and Call to Action.
Despite this common template, the specific structure you choose will always depend on your audience and purpose. You must consider questions such as: Which key points do I choose? What order do I present them in? What is the Call to Action? How do I make the WIIFM clear to my audience? Etc.
4. Craft and Deliver your Message
Only after the first three steps are complete do we craft and deliver our message. This is the final product that the audience actually sees. But despite being the most visible part of the process, the first three steps are where the real work is done. If you've carefully considered your Audience, Purpose, and Structure, then crafting and delivering your message will be the easy part.